Preparing yourself and your machine for your 1 Hr. Training.

The usual suspects are the things that most commonly get overlooked or are incorrect that can burn up training time on things that should already be checked and if not mastered. Not following this guide can cause a host of issues.
1 Hour Training
The main purpose of the 1-hour training is to learn to operate the machine efficiently and get familiar with LightBurn.
We cover anything specific to your workflow like importing files from other applications, etc...
We have found that following the START HERE and paying special attention to the processes that needs to be completed prior to running your machine will help set you up for success and prepare you for your 1 hour training.

(Schedule your training AFTER you have followed this guide.. Link at the bottom of this page.)


The fastest, best, most efficient way to get tech support is by emailing
support@thunderlaserusa.com
If you have issues prior to your training, don't wait. Email support@thunderlaserusa.com with your issue and we will assist. Emailing creates a support ticket, which is always the first step to get assistance, allowing our team to collaborate and respond. This will create an email chain where we can share photos, videos and documentation to quickly and accurately diagnose your issues. We are often on support calls and trainings, the phone is often not the best solution for rapid solutions.
Using our methodology insures we can deploy comprehensive documentation and resources, schedule or initiate remote sessions and much more from within our system. If you need setup assistance we can often assist in near real-time. Thunder has been honing it's technical support systems for almost 20 years and we have a proven system.
Here is more Utilizing Remote Support Best Practices
The Usual Suspects
Okay, now that is out of the way, here are the common things that, if followed, will assure you get the most out of your training:
Scanning Offsets
Thunder Laser Scanning Offset Adjustment must be entered to achieve the best quality engraving.

See the second video for the most common mistake, which is entering the values on the card while lightburn is in inches(
see image below
). The values on the card are metric so lightburn has to be set to metric while entering the values, you can switch back to hybrid or inch mode after you enter the Scan offset values.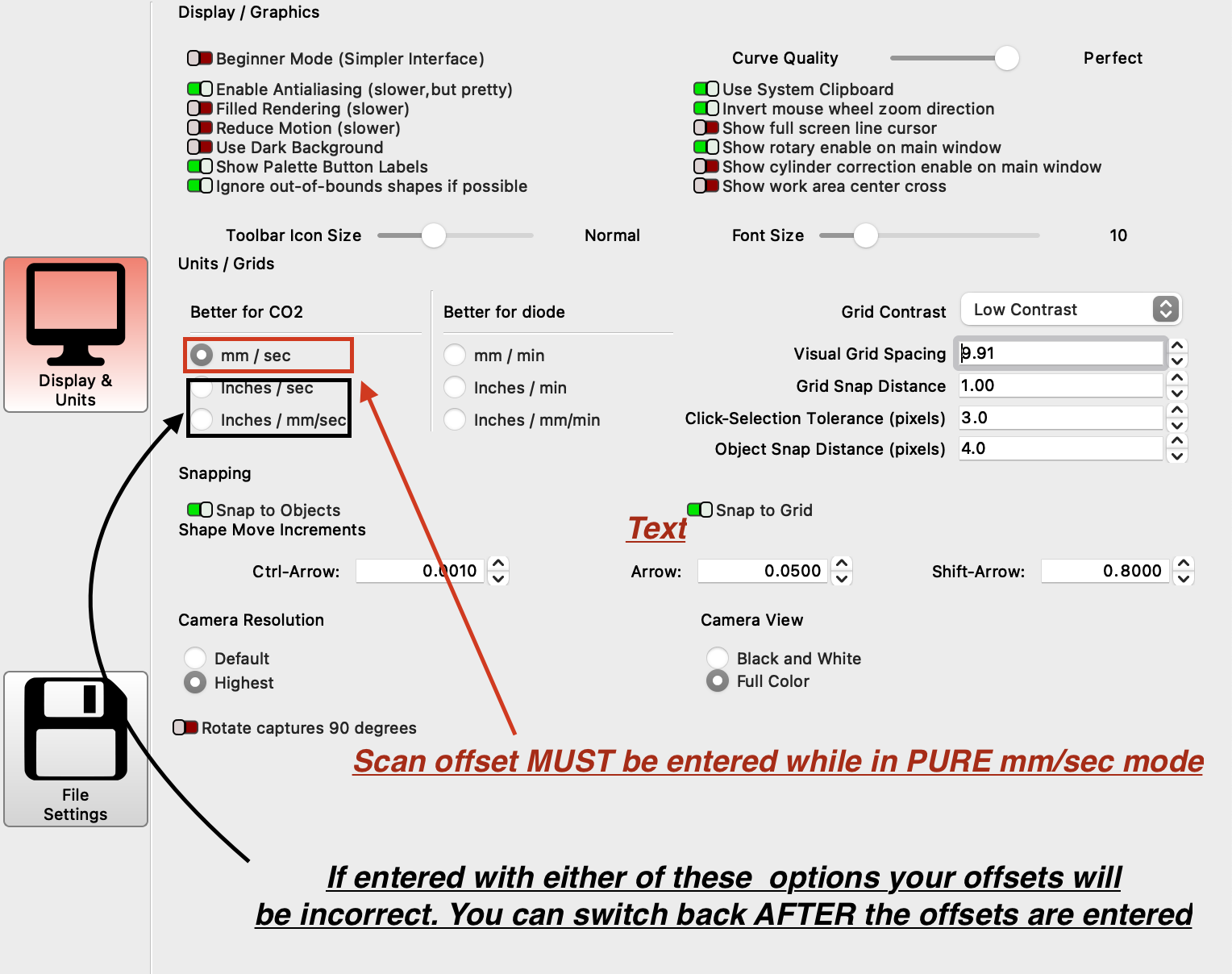 Cleaning the Optics
The optics can get a film on them from the environment during transport, etc... as well as other factors so it's critical to inspect and clean them prior to use. Upon delivery there is typically no reason to remove your mirrors, lens or adjust alignment.. DO NOT remove these optics unless instructed. In most cases a quick visual inspection, a wipe with the cleaning products provided is sufficient.

This is what can happen if you don't frequently check your optics: Common Focus Lens Failure & ZnSe Info
Air Assist
Please learn the air assist system. They don't come at preset flow rates. You must set up the air with the valves on the air assist panel.
This is what can happen if you don't have adequate air to your optics: Common Focus Lens Failure & ZnSe Info
Exhausting



Thunder Laser USA's in line fans take a few seconds to reach full speed. We recommend taking advantage of Lightburn's
START DELAY
Make sure your exhaust is properly routed before your first use and your training!
Auto Focusing and Manual Focus
Nova Series Overview - Heads, Optics, Focus
Odin Series Manual Focus

Odin Series AutoFocus
Preventing & Recovering From A Head Crash
Use Send or Shift + Send
To correct a number of communication, file transfer, and air assist inversion issues, we always prescribe using SEND or SHIFT+SEND when running a job.

SEND function transmits the entire file to the laser controller, then you must start from the controller using the Start/Pause button

SHIFT+SEND function will transmit the entire file, then remote start the file from Lightburn.
WE DO NOT RECOMMEND USING START. We advise removing the Start button using this option in Lightburn(see image below). Upon a fresh restart of Lightburn the Start button will be removed.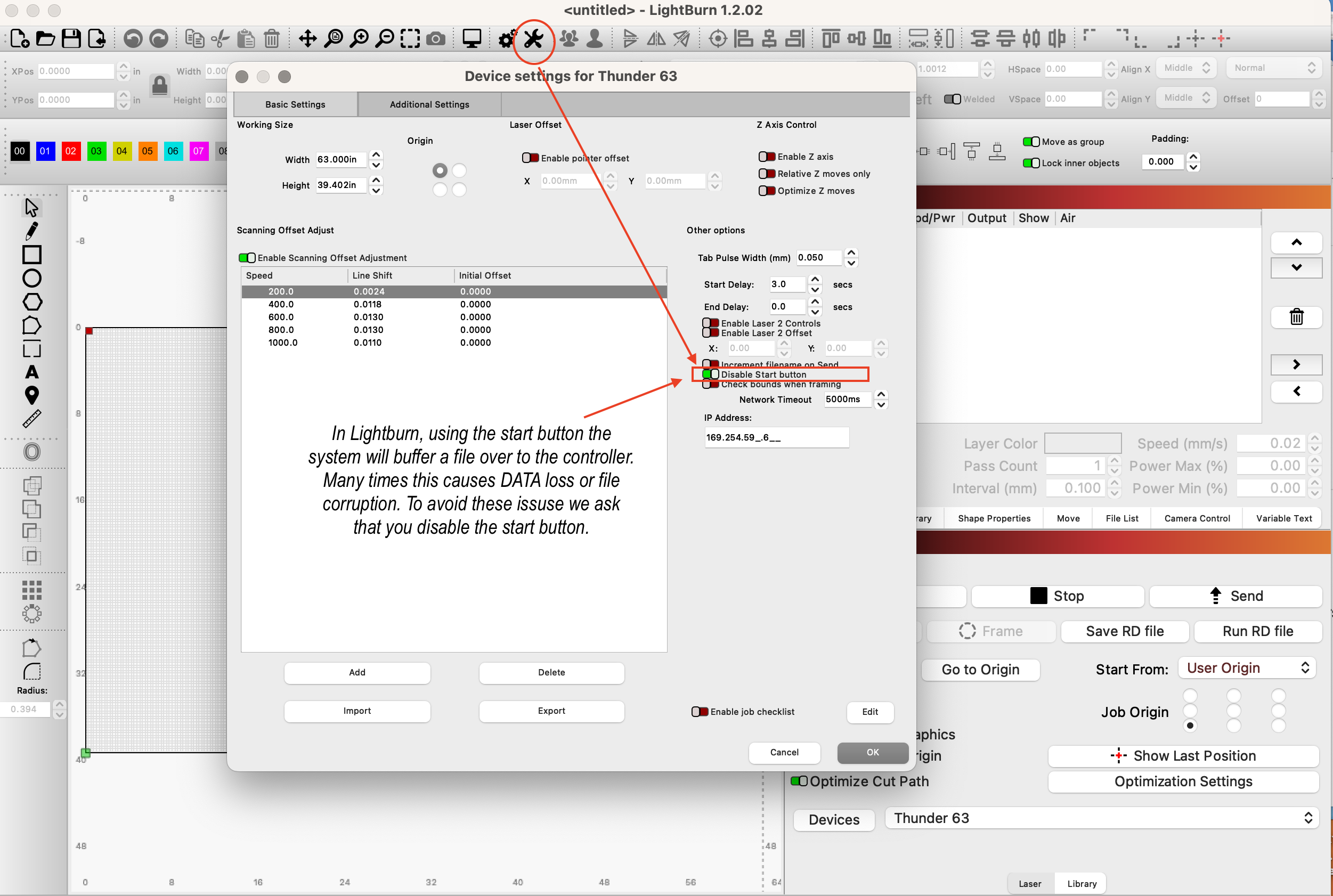 Using Job Origin and Start From Correctly
USER ORIGIN - most common and user definable "start from" position

see image below

remember to jog and set the origin point at the laser from the control panel. blue button marked ORIGIN.

ABSOLUTE COORD - your art grid represents the laser bed

Anything you place in that area will be cut in the corresponding place on your machine.

ABSOLUTE ORIGIN is always used with the Thundercam ThunderCam Docs HERE
CURRENT POSITION - doesn't always behave with our custom firmware (NOT RECOMMENDED)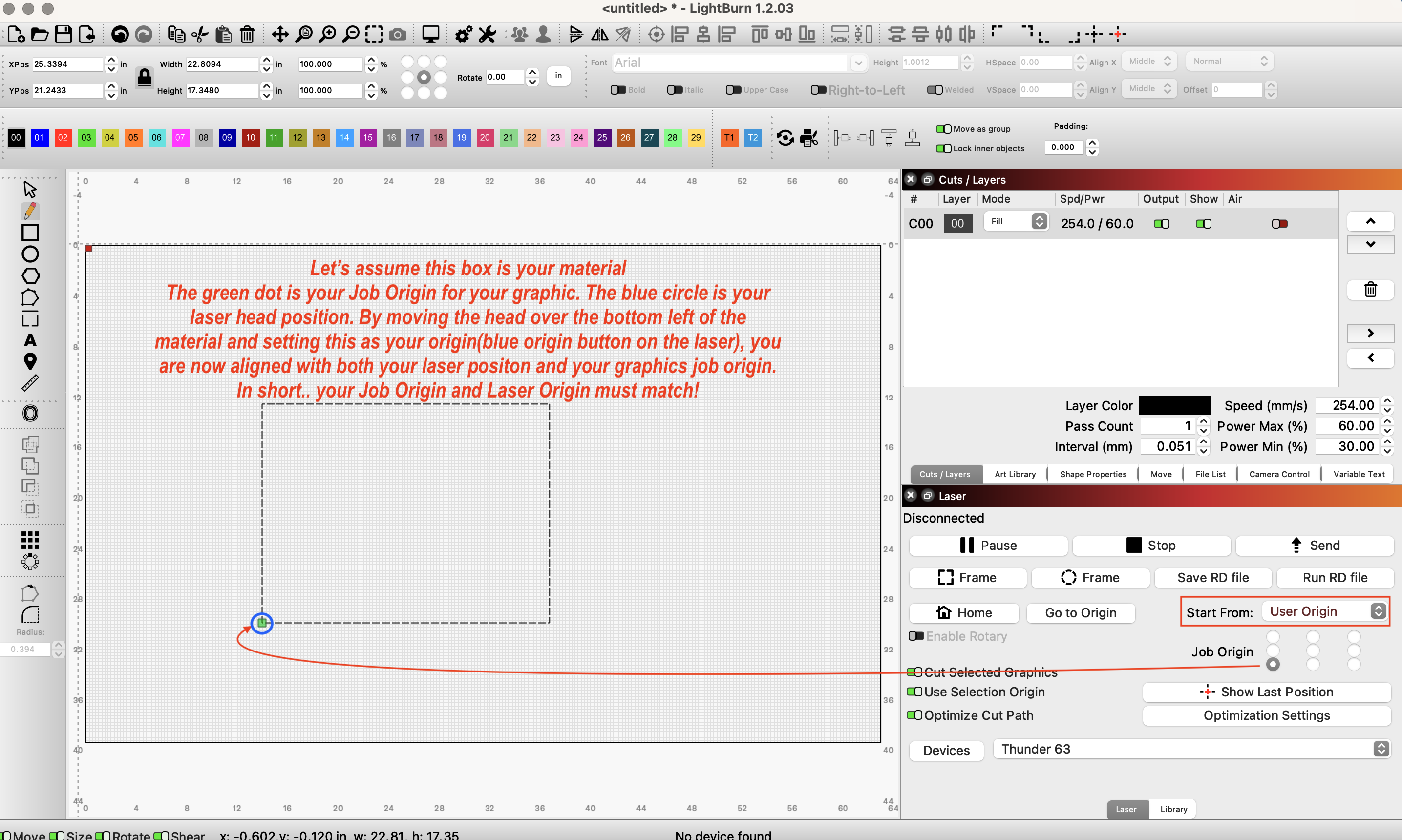 Material placement, job origin and laser head origin must be set up correctly or you can encounter these 2 common errors:

Here's a owners video about origins.
Now that you are ready let's get trained...
If you need help with setup or have any issues, just email support@thunderlaserUSA.com and we will assist.