Thunder Laser Scanning Offset Adjustment
How to Enter your Offsets: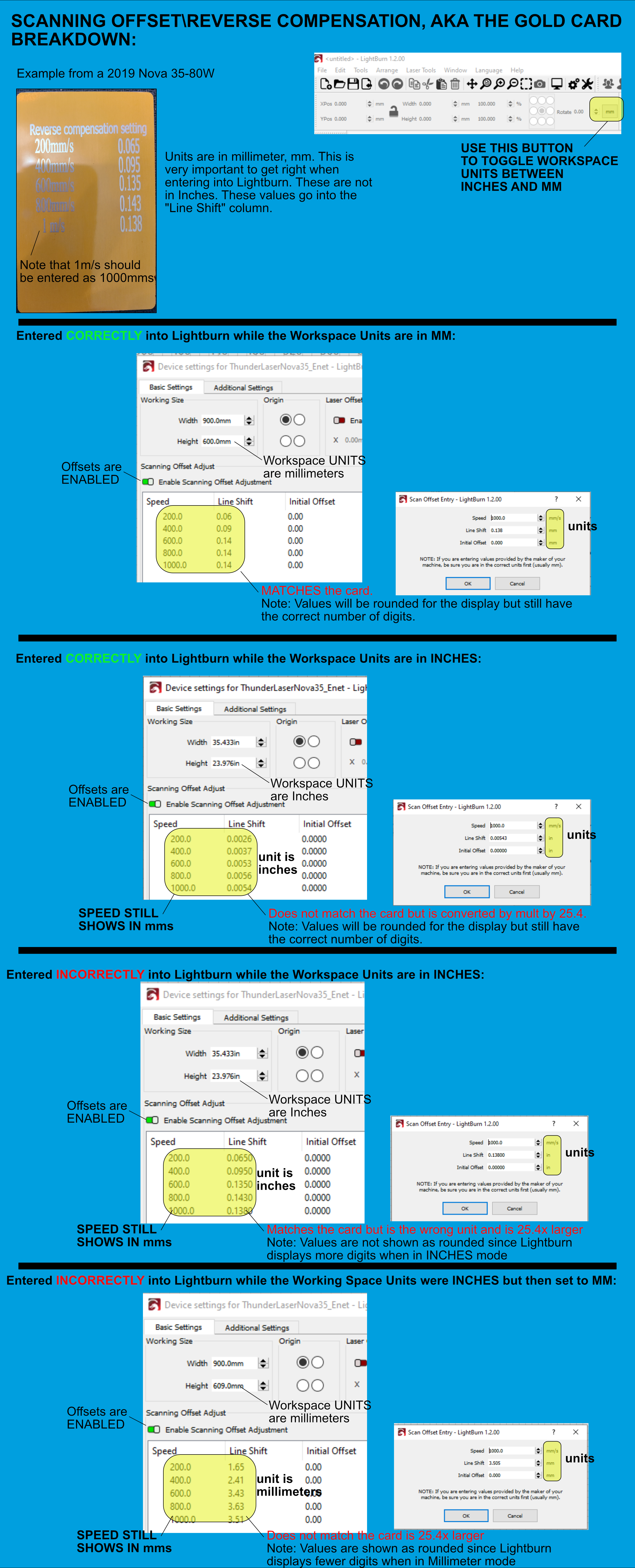 You need to have Lightburn Workspace units in mm mode when entering these values because they are metric. Then you can toggle units as you wish. Also, if the card lists the last speed as 1m/s enter it as 1000mm/sec in the settings. Newer cards have 1000mms engraved, circa 2022.

https://github.com/LightBurnSoftware/Documentation/blob/master/ScanningOffsetAdjustment.md
https://forum.lightburnsoftware.com/t/scanning-offset-adjustment-need-help-with-values/6943
If you do not have these values or need to recalibrate them see here: Scanning Offset Value Generation Procedure

Here is another take on it from the House of Lasers:
And here is more detail on how the units of measure can affect scanning offset values:
Here is a article to help you check that you entered your offsets correctly:

Related Articles

Scanning Offset Value Generation Procedure

Be sure to turn scanning offset OFF in LightBurn prior to running this test. here is the official documentation on this: https://lightburnsoftware.github.io/NewDocs/ScanningOffsetAdjustment.html Here is more about the attached file: You will need a ...

Used Thunder Laser Inspection & Valuation

Overview We still support quite a few MARS series and older Nova machines and they still perform just as well as current machines, minus some of the innovation (dual stage air, door interlock board, etc...). Thunder Laser still maintains many, if not ...

Thunder Laser Product Evolution Changelog

NO. Update contents Update reason description EFFECTIVE DATE 1 The limit switch is changed from a slot switch to a mechanical switch(touch type) Reduce limit failure rate 2019.11 2 Nova is added dual air system Partition control of strong blow ...

Thunder Laser Cooling, Temperature, & Freeze Mitigation

Thunder Laser Cooling, Temperature, & Freeze Mitigation v1.0a PLEASE REFER TO THE Nova Series Users Manual FOR SAFETY AND TECHNICAL INFORMATION. Always observe best practices for safety and be sure all systems are de-energized before performing ...

Uncrating Your Thunder Laser

Uncrating Your Thunder Laser Uncrating your new Thunder Laser is fairly straightforward, you will need a few tools to make this happen. NOTE: The leveling casters are nailed to the pallet, you must pry the wood off them and RAISE them, if you leave ...