LightBurn Start Delay to allow the fan to spool before the job starts
Since LightBurn 1.2.00, a function has been added to the device settings in LightBurn to define a time delay for the start and end of a job. Click the wrench/screwdriver icon to open the pop-up Device Settings window. Adjust your start delay to 2-8sec to give the Thunder in-line fan enough time to spool up to its max speed. NOTE: Thunder Lasers already has an End Delay built in timer that allows the exhaust fan to run aproximatly 30sec after the job to clear out left over fumes and smoke. This action is done by Thunders proprietary TL Timer board so the end time should be left at 0.0.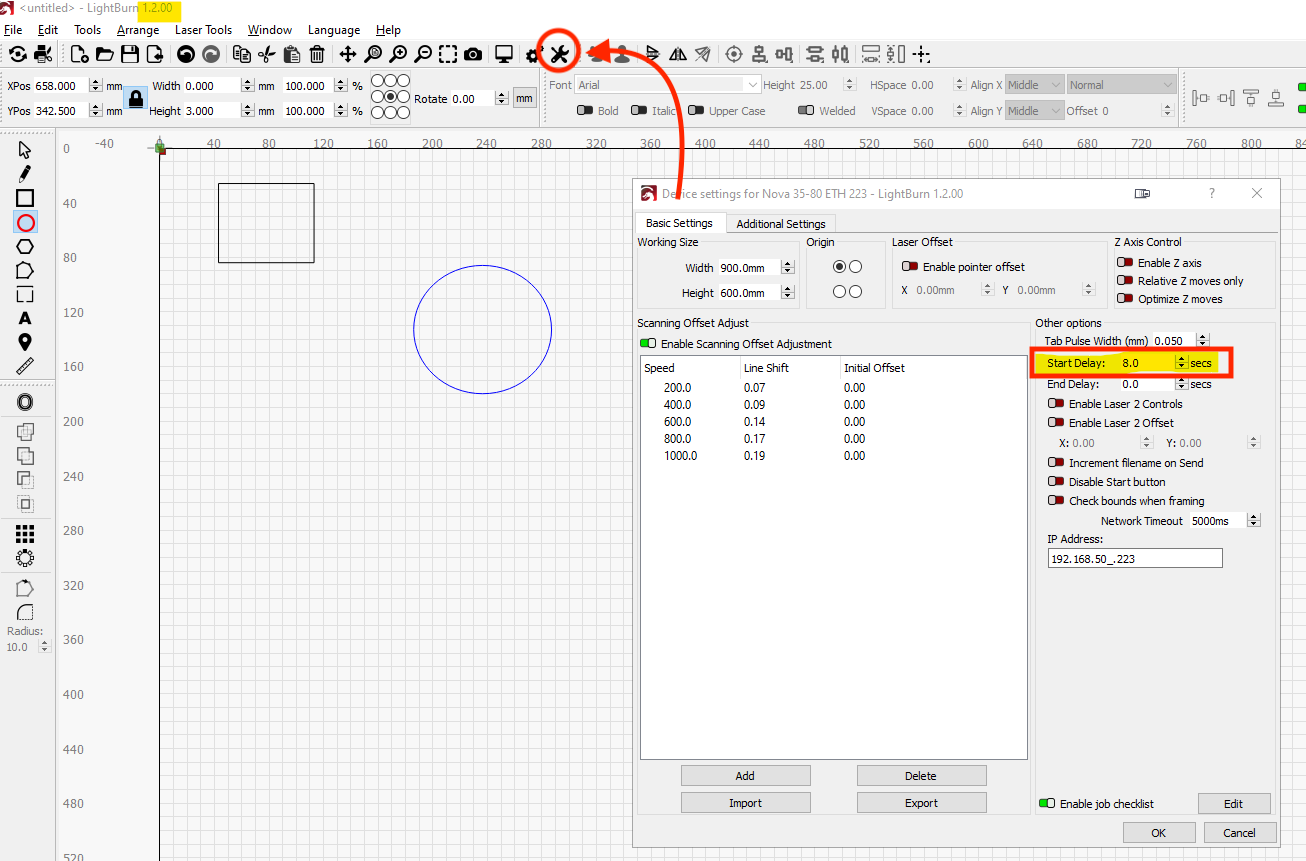 Related Articles

Adding Manual Exhaust Fan Control

LightBurn now has start timers built in so the fan can spool up before the job starts. There are settings for end delay time too, but leave that at 0 because end delay is controlled by the TL-Timer. More information can be found on that here. There ...

Improving Job Time Estimates In LightBurn's Preview

Most lasers can only achieve 500mm/sec max speeds and Thunder can easily raster (Filler Layer Engrave) at 1000mm/sec. The default settings for the simulation and time estimation in LightBurn need to be tweaked to your specific machine. Luckily ...

Re-Wire Fan to come on with Laser and Chiller with Chiller Switch

This article has instructions on how to wire your inline exhaust fan so that it comes on with the Laser Switch and to provide power to the Chiller so that you can "Dry Run" the Laser and also ramp the exhaust fan up prior to starting a job. LightBurn ...

LightBurn Trial Mock Nova ODIN and Bolt Setup

Preface: This article will walk you through a mock device setup so you can emulate a Thunder Laser in your LightBurn trial. There are two methods to do it, the Manual method where you create the profile per the instructions in the video and the ...

Crash Course - Photos In LightBurn

This is a recorded webinar of Chris Locascio going over preparing a photo in LightBurn. The LightBurn file, original image, and meeting notes are attached below.