Thunder Laser USA Warranty & Transfer
Thunder Laser Factory Warranty
Thunder Laser Global

The current 2022 OEM factory warranty can be found below.


The factory warranty start date is the day it leaves the factory.
NOVA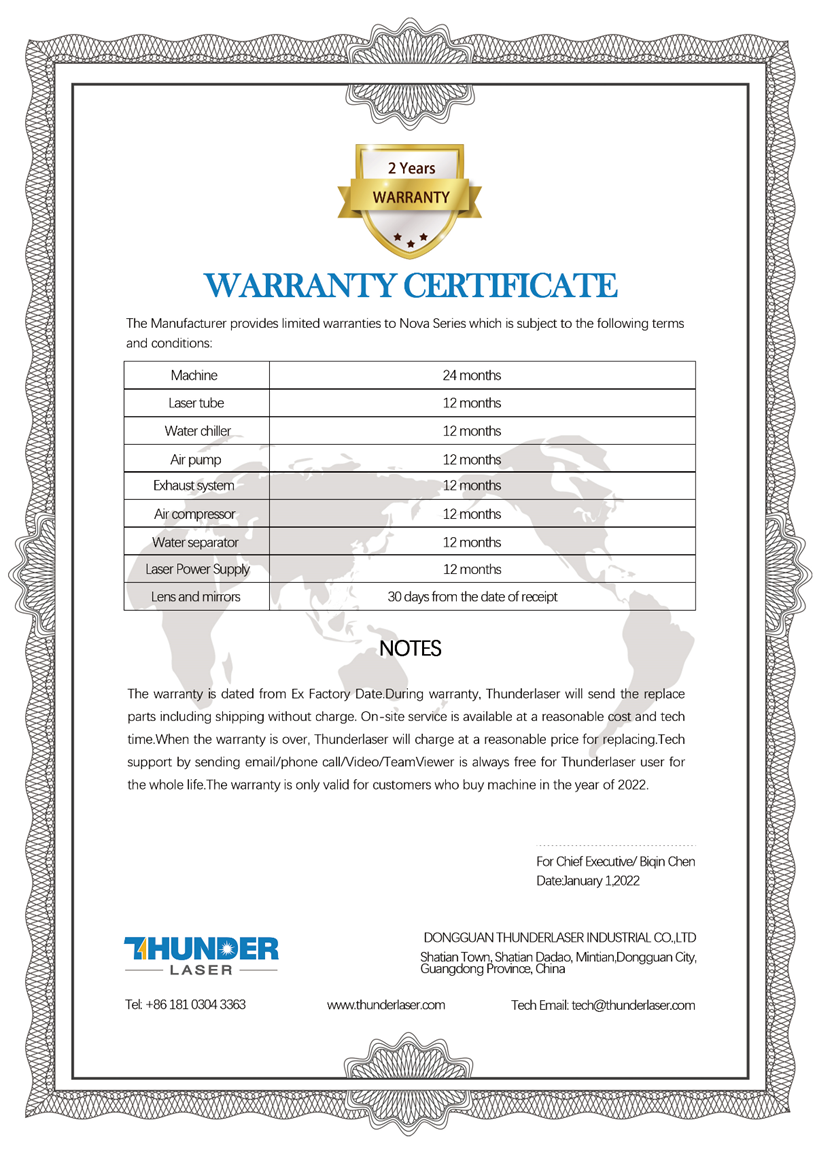 ODIN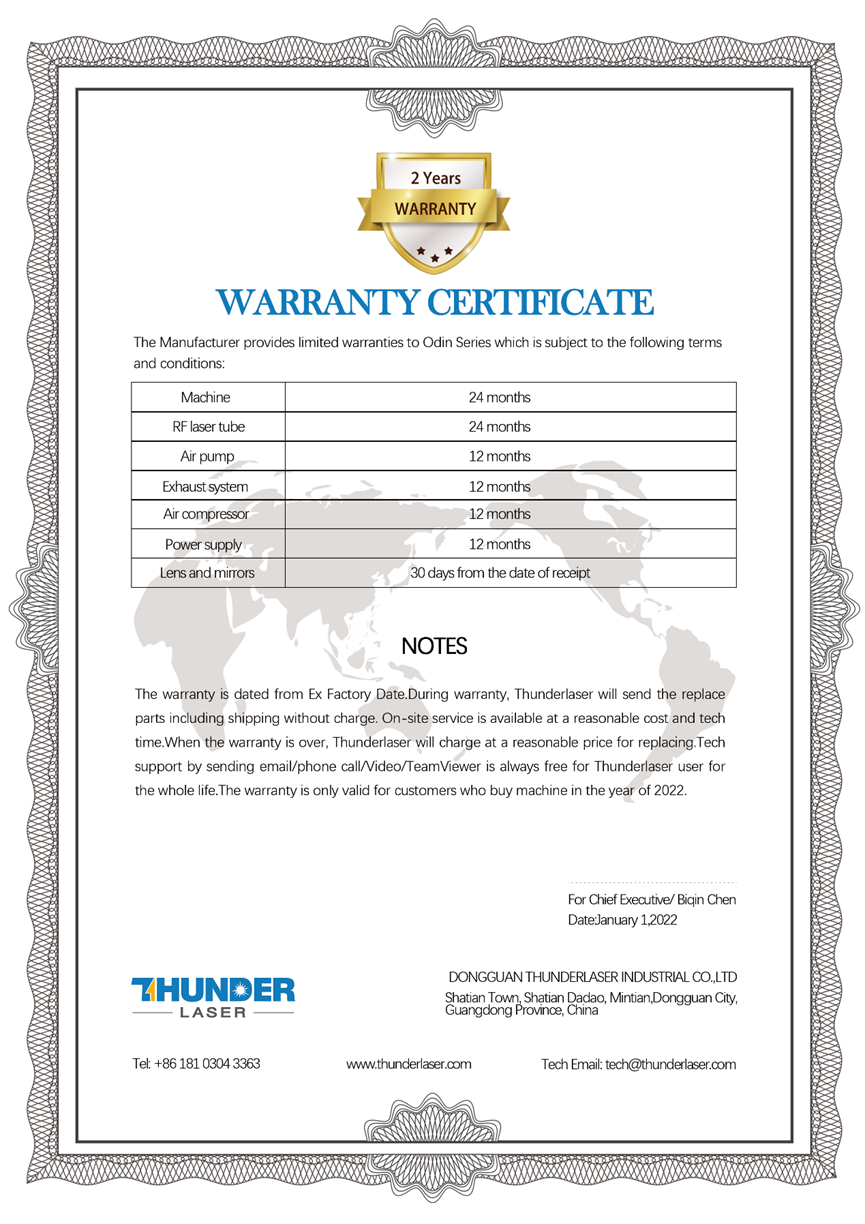 AURORA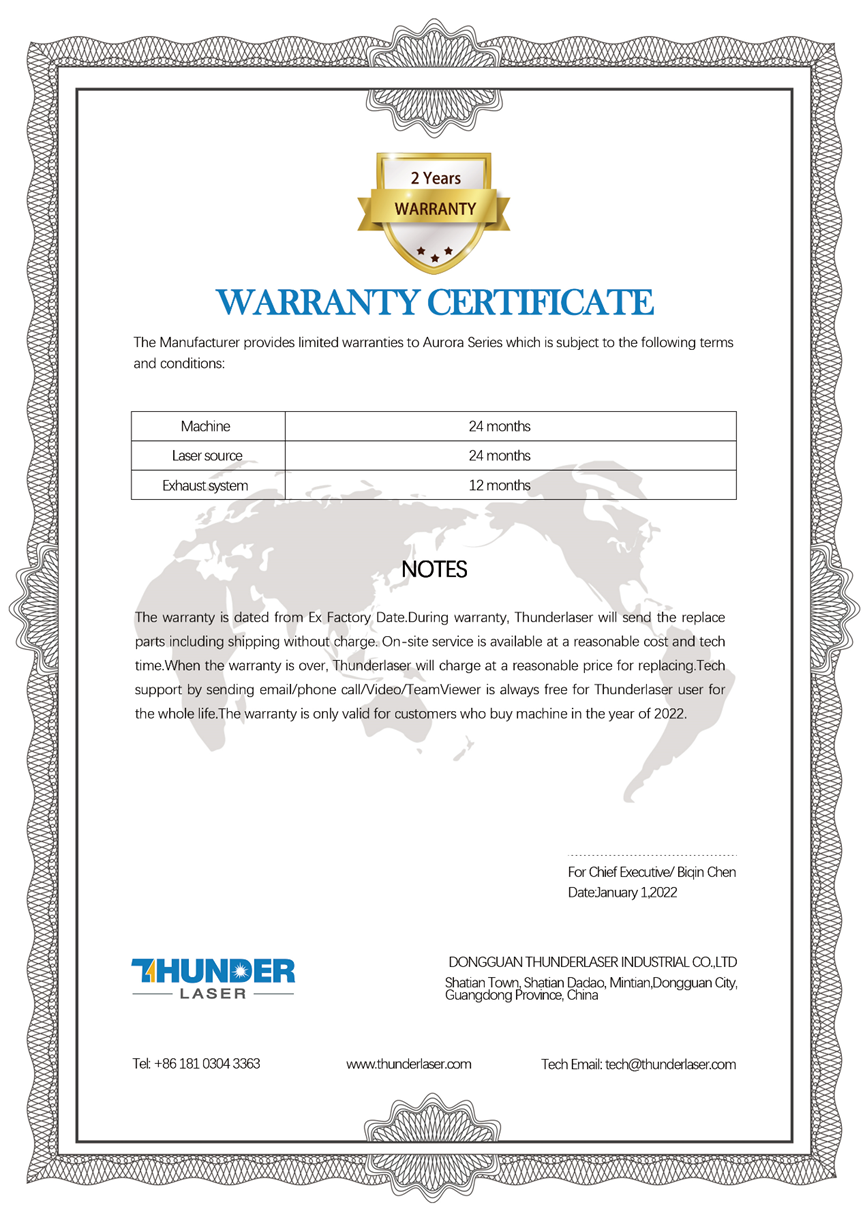 Thunder Laser USA

Thunder Laser USA understands that some lead times are extended, so we do look at delivery date, service history, etc... and will make sure that you get your full warranty periods.
How To Find Your Warranty Start Date

A good way to get really close to your warranty start date is to look at the mfg date on the machine tag (back of the machine near the main power connection).
That date is close to the time it left the factory.
Warranty Transfer

While Thunder Laser Global does not provide for warranty transfers, Thunder Laser USA clients have the ability to transfer any remaining warranty (as well as free lifetime remote support) as the 1st ORIGINAL owner to the SECOND owner.

The LightBurn key can transfer as well but that is beyond the span of our control.
LightBurn Support
can assist there.
Warranty Transfer Form

The warranty transfer form (see below) is intended to be completed by the 1st original owner of the Thunder Laser USA machine. You will need to collect some technical data about the machine as well as the contact information of the 2nd owner that the machine will transfer to.
Second Owner Support

Here are some helpful resources for the 2nd owner:

Related Articles

Thunder Laser USA Supply Chain

Here's how it works Let's take a moment to understand where all of Thunder Laser USA's stock is and how it all comes together: We have 3 OEM physical inventory locations in the US: Thunder Laser USA Headquarters & Sales Division in Texas Thunder ...

Thunder Laser USA Beam Buddy HR Head Information & Instructions

this image may differ slightly from the current model ​ Description Our Thunder Laser USA Beam Buddy High Resolution Head is manufactured in Canada to our specifications and this head performs a bit better than the stock Thunder HR Head. More on that ...

Thunder Laser Main Power Requirements

The laser (which includes the air assist pump, extraction fan, and chiller) electrical power specifications are as follows: NOTE: ALL THUNDER LASER USA MACHINES ARE 110VAC ONLY Electricity, Power, Breaker INCLUDING the machine, all stock peripherals, ...

OEM Warranty Conditions - DC Excited Glass Tubes

Please follow our requirements strictly! 1. Problem description Please describe your problem to us and provide a video or photo. That's can help us to judge the issue easily. Video or photo must show the problem clearly. If you don't know how to ...

Thunder Laser Cooling, Temperature, & Freeze Mitigation

Thunder Laser Cooling, Temperature, & Freeze Mitigation v1.0a PLEASE REFER TO THE Nova Series Users Manual FOR SAFETY AND TECHNICAL INFORMATION. Always observe best practices for safety and be sure all systems are de-energized before performing ...