NOTE: THE NOVA 35-80 NOW SHIPS WITH A 90W RECI W2 TUBE. CONTACT SUPPORT@THUNDERLASERUSA.COM FOR MORE INFO IF YOU HAVE AND ORIGINAL RECI TUBE. LightObject also sells Reci W2 tubes.
If your Thunder Laser is under warranty, you need to use our OEM specified brand and model unless directed by Thunder Laser USA Support. If your machine is out of warranty you are free to replace it with whatever you wish but making sure you use the prescribed parts will help ensure continued performance and reliability.

these are weights and dims of the thunder oem tube crates: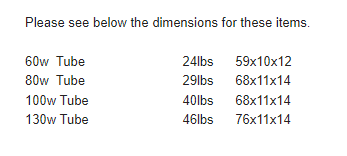 Thunder Laser uses mostly SPT tubes (and Reci) and every tube is inspected, measured, and tested to make sure each one meets or exceeds our quality standards.
Thunder Laser USA does stock tubes for warranty stock. If your Thunder Laser is under warranty and you have a problem please submit a support ticket at support@thunderlaserusa.com
We try not to sell our tested OEM tubes in non-warranty situation, so we may refer to you a 3rd party source (LightObject.com) based in Sacramento, CA who is also a certified SPT reseller.
Additionally, our OEM tubes already have the wire pigtails with HV connector attached. The current LO Tubes below have wire wrap posts which need to be terminated correctly. See the Installation Notes below for more information.
We like to keep the specified model and type tube in warranty machines, but if you are out of warranty and choose another brand tube, that is totally up to you. adding non-oem spec equipment could change the behavior, output, calibration, etc... so the tube needs to have the same specs as the oem tube to help mitigate the difference.
The instructions for installing our OEM tube can be found here:
If you are directed by Thunder Laser USA Support to obtain a 3rd party tube, please continue:
According to LightObject's Shipping Information page, they typically require a form to be completed and other interactions before completing the order (a 130w form is attached just for reference):
LightObject has worked with Thunder Laser USA to help expedite this process by providing a standing document for all Thunder Laser USA clients outlining the data needed so you don't have to use the form.
IT IS CRITICAL THAT YOU LET THEM KNOW YOU ARE A THUNDER LASER USA CLIENT.
USE DISCOUNT CODE THUNDER ON CHECKOUT WITH LIGHTOBJECT TO GET 5% OFF.
Here is the data they require to sell and warranty an SPT tube that we have provided. The LO Tube links take you to LightObject's product page for that tube:
LightObject recently updated their website. We made every effort to update the links in our documentation but if you have questions please contact us.
NOTE: LightObject does not have the c-130 SPT listed. contact thunder support at support@thunderlaserusa.com
Be sure to read Lightobject's Shipping Information, Warranty & Returns, & Terms & Conditions.
You can contact LightObject at 1-916-383-8166 or contactus@lightobject.com..
INSTALLATION NOTES:
The instructions for installing our OEM tube can be found here:
How To Replace The Nova Series DC Tubes
If your non OEM replacement tube has wire wrap posts (see below) instead of pre-attached wire 'pigtails', some special considerations must be observed.
DO NOT heat, solder, bend, or twist the posts!
You will need 2 sections of silicone tubing that will slide over the posts after the wire is wrapped around it. And you will need some 100% silicone sealant. Basically twist the ends of the wire on the wire wrap post as tightly as you can. you may use a small bit of electrical or teflon tape so help secure the wire around the post. Then slide on the tubing and fill the entire connection with sealant. This really needs to dry for 24 hours.
if your tube has pigtails, you can use one of these to facilitate a more 'plug and play' installation:
If your tube swap requires a high voltage connector you can get it here:
https://lightobject.com/laser-power-supply-cable-repair-kit/
Here is the connector breakdown:

PLEASE SEE THE ATTACHED PDF 'How to replace the tube' for info on wire splicing and more (this is on a Mars series machine but very similar).
SPT Solutions Articles: https://www.sptlaser.net/solution