New FTDI Driver Solves Mac USB Issues
According to LightBurn, the Mac USB Issues seem to have been mitigated with their new OEM driver release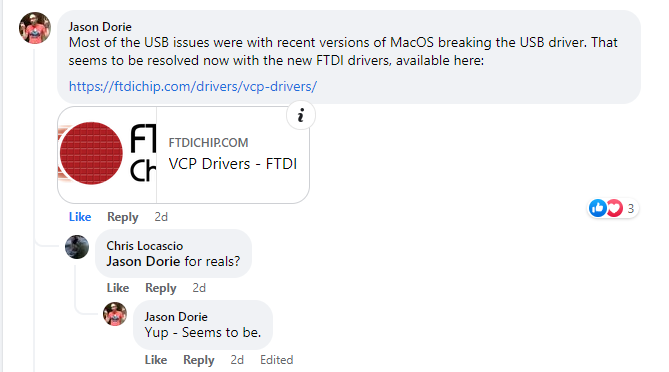 Related Articles

DM556 Driver

The DM556 is a versatility fully digital stepping Driver based on a DSP with advanced control algorithm. The DM556 is the next generation of digital stepping motor controls. It brings a unique level of system smoothness, providing optimum torque and ...

LightBurn v1.0 Issues on MacOS Big Sur over USB

08/23/2021 08:18PM UPDATE: We believe the developers have isolated the issue Please see this lightburn forum thread often for the latest on this: https://forum.lightburnsoftware.com/t/version-1-0-macos-issues-with-ruida/45433/42 08/13/2021 05:03PM A ...

Connecting A Thunder Laser To LightBurn Via USB

If you have a MAC, it is suggested to use an Ethernet connection, see here:Connecting A Thunder Laser To LightBurn Via Ethernet Here is how to connect your thunder laser to the computer via usb: WINDOWS USERS: If you do not have the FTDI driver ...

MAC Connecting A Thunder Laser To LightBurn Via Ethernet

This article describes how to set up a direct connection to the machine which omits routers, hubs and switches that can add complexity and may not work even if you are able to ping the machine. Before we begin, please read: -Your MAC most likely will ...

Electrical Noise, Ground Loops, and USB Communication

There is a lot of buzz around the grounding of Chinese lasers. It is generally in reference to earth ground and the safety of the machines. I have been down many rabbit holes about why or why not to add an additional earth ground to the machines ...