Dot Test-2" vs. Thunder HR vs. US-HR (Beam Buddy)
Stock 2" Head vs. Stock Thunder Laser HR Head

| | |
| --- | --- |
| Stock 2" Head | Stock Thunder Laser HR Head |
| | |
| | |
| | |
| | |
Stock Thunder HR Head vs. USA Beam Buddy HR Head

| | |
| --- | --- |
| Stock Thunder HR Head | USA Beam Buddy HR Head |
| | |
| | |
| | |
| | |
Dot Size Comparison


Air Blowing Result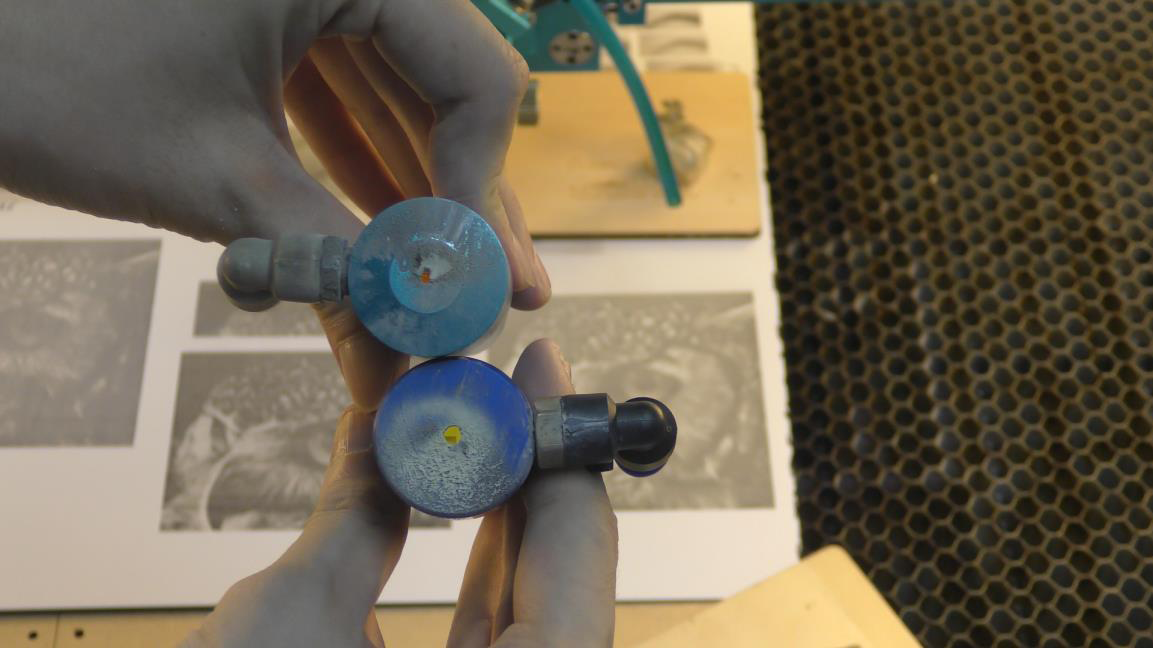 Testing by Thunder Laser China Engineering.
Results obtained with an electron microscope.
Measurements are in microns
Source: Glass DC Excited water-cooled CO2 tube
Related Articles

Thunder Laser USA Beam Buddy HR Head Information & Instructions

this image may differ slightly from the current model ​ Description Our Thunder Laser USA Beam Buddy High Resolution Head is manufactured in Canada to our specifications and this head performs a bit better than the stock Thunder HR Head. More on that ...

LightBurn Material Test File

UPDATE 4-7-2022: Added two files for correcting the power scaling at 10mms and below. The layers that are 10mms or slower now have individual layers and do not use shape power scaling. The new lbrn and lbrn2 files are attached with the name "thunder ...

Aligning Your Laser Beam

There are actually 3 parts to this. Aligning the beam from the tube to the head, aligning the beam so its perfectly vertical and central, and finally the red dot pointer alignment. They need to be completed in that order. OEM ADJUSTMENT ...

Aurora Test Files

These are some test files, and a short overview of them, from JefferyJ. His YT channel is an excellent resource: And here is the description with links: I've made a handful of EzCad test grids in past videos, some for power vs speed and others ...

Red Dot Pointer Issues and Replacement

The red dot pointer has no power Locate on the Red Dot Pointer Mount in the rear of the machine, and check if the Red Dot Pointer is on, like below. It will not form a 'normal' looking spot typically so don't automatically assume the module has ...